TapNLink Primer NFC-BLE-WiFi
TapNLink Primer implements Wi-Fi, BLE and NFC connectivity and allows debugging and programming of microcontroller applications over wireless from Raisonance Ride7 (no code-size limitations).
Order : IOTZ-TAPNLINK-PRIMER-NBW-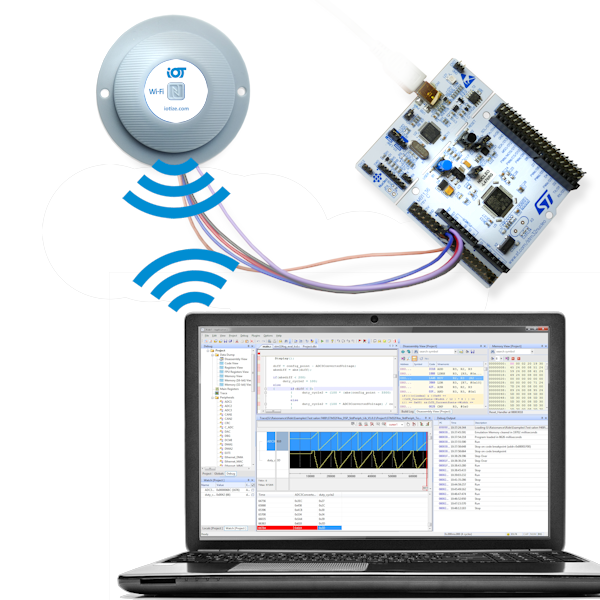 Ride7 wireless debugging tool
When connected to the SWD port of Cortex M-based MCUs, TapNLink is  allows programming and debugging of applications on Cortex M-based microcontroller using the Ride7 and RKit-ARM software.
For MCU programming and application debugging, TapNLink supports connection to the target MCUs SWD port. The user's PC running Ride7 can be connected using Bluetooth or WiFi. For full instruction refer to the Iotize General Documentation.
Evaluation of TapNLink Wireless Modules
With TapNLink PRIMER, it takes just minutes to create connect MCU applications to mobiles (smartphone, tablets, PDAs, etc.) via a Wi-Fi, Bluetooth Low Energy (BLE) or Near Field Communication* (NFC) interface. Users can generate their own Human machine interfaces as mobile apps - just connect TapNLink to your MCU, configure is with the free configuration software and then generate your app automatically with the IoTize app generation tools.
Primer connects to MCU using only 2 GPIO and either
SWD (debug) protocol for ARM Cortex-M based microcontrollers
Serial protocol (S3P - Sofware Secure Serial Protocol)
It offers of complete array of pre-implemented, configuraboe features:
Access profiles 
Encrypted passwords
NFC pairing for BLE or Wi-Fi
Auto-generation of Android and iOS apps
For complete information about the TapNLink Primer contents, features and sample application, visit the IoTize web site.