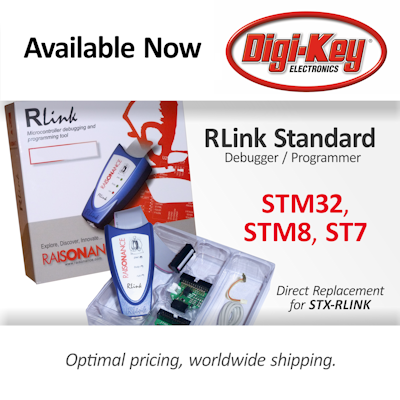 A complete tool offering covering ARM Cortex-Mx, ARM7TDMI and ARM966E core-based MCUs from leading manufacturers
The Raisonance hardware/software tools for microcontrollers with ARM 32-bit cores, provide everything users need to write, compile and debug their applications.
Software tools include the free GNU C/C++ compiler for ARM and the Raisonance integrated development environment (Ride7), which provide start-to-finish control of application development including code editing, compilation, optimization and debugging.
The RLink in-circuit debugger/programmer (USB/JTAG) offers high-performance yet affordable device programming and application debugging. In addition, Ride7 supports the use of the IoTize TapNLink for programming and debugging over a wireless interface.
Debugger - Programmer
Software Licenses
Support Extensions & License Upgrades
Hardware Accessories