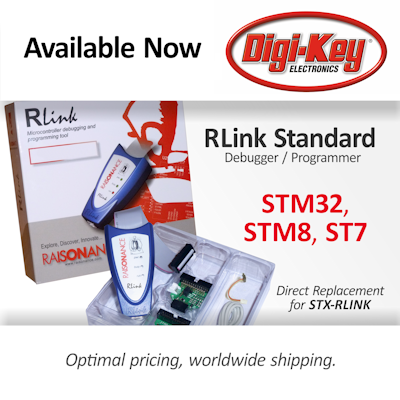 A complete hardware/software development tool offer for application designers working with NXP' LPC21xx, LPC23xx and LPC24xx ARM7TDMI-S core-based microcontrollers, which combine 32-bit core performance with low power consumption  a rich peripheral set and a wide range of packages to meet the needs of a range of embedded control applications for industry, medical, sales, telecommunications and consumer domains.
The Raisonance offer builds on the proven Ride integrated development environment, the GNU C compiler and hardware tools. Software tools are combined with hardware in complete tool packages that include:
RLink - versatile in-circuit debugger/programmer covering both 8 and 32-bit families
RKit-ARM for RIDE7 Free software package including an unlimited compiler assembler and libraries.
Debugger - Programmer
Software Licenses
Support Extensions & License Upgrades
Hardware Accessories