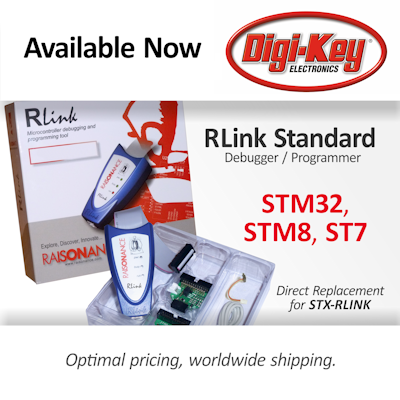 Our complete hardware/software development tool offer covers all aspects of application design with SiLabs' EFM32 Tiny, Gecko and Leopard ARM Cortex M3 core-based families of microcontrollers, which feature innovative low energy techniques, short wake-up time from energy saving modes and a wide selection of peripherals, making it ideal for battery operated applications and other systems requiring high performance and low-energy consumption..
The Raisonance offer builds on the proven Ride integrated development environment and the GNU C compiler. Software tools are combined with hardware in complete tool packages that include:
RLink - versatile in-circuit debugger/programmer for both 8 and 32-bit families

Open4-Flasher - standalone programming for application development, production and maintenance on products implementing ARM Cortex-Mx based microcontrollers including a complete range of EFM32 devices.
Debugger - Programmer
Software Licenses
Support Extensions & License Upgrades
Hardware Accessories