Wireless Modbus® Bundle
Buy a TapNPass Modbus-WiFi adapter and get your TapNLink wireless kit free ! This unique low price represents 35% savings. Don't miss this time-limited offer, Order Here !
Order : EngineerLive-Modbus-Special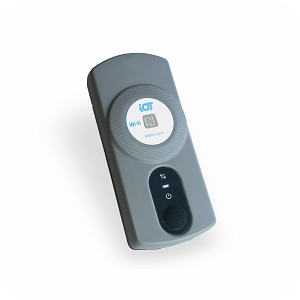 Whether you are retrofitting wireless to deployed equipment, or integrating wireless in new designs, this combination of TapNPass and TapNLink products is the perfect place to start. 
Transform Modbus ports into wireless access points for mobile, or network access with TapNPass and TapNLink. TapNPass and TapNLink implement quickly and easily on any Modbus-equipped product, or electronic design. Just connect, configure, and click to generate mobile apps or Cloud dashboards.
Package includes:
1 TapNPass Nomad WiFi / BLE adapter for products with Modbus via RS232, RS485 or USB
1 TapNLink PRIMER WiFi / BLE module for direct connection to processors via Modbus, SWD, or serial port
IoTize Studio configuration software for PC
IoTize server-based app generator (Cordova/Ionic)
IoTize Tap Cloud for remote data collection and visualization
Open Source MQTT implementation
Begin Your Industry 4.0 Migration Today !
Discover the ease of wireless retrofit on Modbus-equipped systems. Explore the possibilities of wireless connection to mobiles and Cloud. Kick off your company's IIoT transformation with real, immediate gains in maintenance efficiency.
Key Features
Wireless Channels
Near Field Communication (NFC) Type5 tag
Wi-Fi 802.11b/g/n
Bluetooth Low Energy (BLE) 4.2
Wireless Features
Automated NFC pairing with WiFi or Bluetooth devices
WiFi or Bluetooth point-to-point connection to mobiles
WiFi connection for network gateways
Security
Configurable access profiles 
Configurable, encrypted passwords
AES-128/256 module-level data encryption
Configurable secure pairing with NFC
Compliance
CE (Europe), FCC (USA), IC (Canada).
REACH
RoHS
WEEE
Ordering Information
Part Number: EngineerLive-Modbus-Special
Limitations:
Offer valid until April 30th 2021
Offer limited to one unit per customer.
Pricing does not include shipping. Shipping cost is calculated and indicated prior to payment.
Online orders must be made via this web site with payment by Visa, Mastercard only.
This offer is not valid via any other party and pricing does not engage any IoTize reseller or partner.